Affinity Photo is an application that has been spoken of quite highly in the recent past. Affinity by Serif has created a suite of apps that take on Adobe's stalwarts, Photoshop, Illustrator, and In-Design head-on. While doing so, they've added in their own twists, with innovations that will make you smile, and wonder why things weren't always done this way.
They're also new to the field, so the apps need to prove themselves before professionals consider switching to Affinity Photo, Designer, and Publisher full-time. In the meantime, one of the important questions that need to be answered is: Do Affinity Apps support Adobe file formats like .PSD, .AI, .PDF, and .EPS which have become industry standards over the course of the last 3 decades or more? Let's find out…
The AFPHOTO File Format
Affinity Photo saves files in its native format: .afphoto. It is a format that will allow you to work safely with all the features that Affinity Photo has. Using the AFPHOTO file format will allow you to save your projects without having to rasterize any of the layers, or losing any data. However, it isn't a widely used and compatible format (unlike PSD), so you will often have to fall back to formats such as PSD, TIFF, PNG, and JPG as the occasion dictates.
PSD files accommodate many features that Adobe Photoshop has, such as raster and vector layers, masks, adjustment layers, and much more! While Affinity Photo does have many of these same features, there are differences between the two software, so we must expect to find some incompatibilities. Hopefully, these aren't too frequent and numerous.
Does Affinity Photo Open .PSD files?
Yes, Affinity does open layered PSD files. Important features like Text layers, Layer Styles, Layer Masks, and Layer Blend modes are also brought into Affinity Photo without compatibility issues. Affinity Photo even opens 32 bit PSD files, and retains editable Embedded Photoshop PSD Smart Objects. This means that your files look and work the same way in Affinity Photo as they do in the latest version of Adobe Photoshop.
There is no apparent loss in visual quality, and editability is maintained in many cases. This is quite impressive and is a good sign for users who want to explore Affinity Photo as an alternative to Adobe Photoshop.
Does Affinity Photo Import .PSB Files?
Yes, Affinity Photo does import PSB files. PSB files are Adobe Photoshop files that are intended to be used only when the pixel or file size exceeds the maximum parameters for PSD files. PSD files can not exceed 30,000 x 30,000 pixels in dimension, or 2GB in size. PSB files can exceed these parameters (they can be as large as 300,000 x 300,000 pixels, and 4.2 Billion GB in size).
However, Affinity Photo does not save PSB files. This means that if your file is larger than 30,000 pixels in any dimension, you will have to save in the Affinity Photo format – afphoto. One important point to note is that .afphoto files can not be larger than 256,000 X 256,000 pixels in dimension.
Does Affinity Photo Save PSD Files That Work Properly?
Yes, Affinity Photo has an export feature that saves PSD files. Click on "File > Export…" or press CTRL+ALT+SHIFT+S to bring up the "Export Settings" window. There, click on the PSD tab and choose your preferred settings.
As expected, there are preset options that prioritize editability over Accuracy or vice-versa. There is also a preset to save a PSD that is compatible with Final Cut Pro X.
As you can see, the Export Window also allows you to save your file as other popular file formats such as PDF, EPS, TGA, SVG, TIFF, GIF, EXR, JPG, PNG, WMF, or HDR.
Each of these presets can be tweaked with even finer care if you click the 'More…' button at the bottom of the window.
The app presents options for you to choose how various adjustments, gradients, layer effects, and blending are handled upon exporting. This gives you some very fine control over how your PSDs are created when exporting from Affinity Photo.
Enabling PSD Write-back
When you open a PSD file, Affinity's typical behavior is to save the file in the Affinity Photo native file format. This is so that incompatible features like live layers are not lost. As mentioned above, one option is to "Export" your file as a PSD.
However, if you have certain apps that require PSDs for their working, and you need to constantly update these files – as is the case when working with certain types of graphics, then you will want to resave the same PSD file by enabling the PSD write-back option.
Here are the steps to enable PSD write-back in Affinity Photo:
Navigate to the "Preferences" panel
Click on the "General"
Check the box next to: Enable "Save" over imported PSD files.
However, this option does come with its own warning which reads:
Warning: This option is only recommended for users who wish to use PSD as an interchange format with DAM applications. Incompatibility between the Affinity format and PSD may cause certain document features to get rasterised or lost.
Use this feature with care.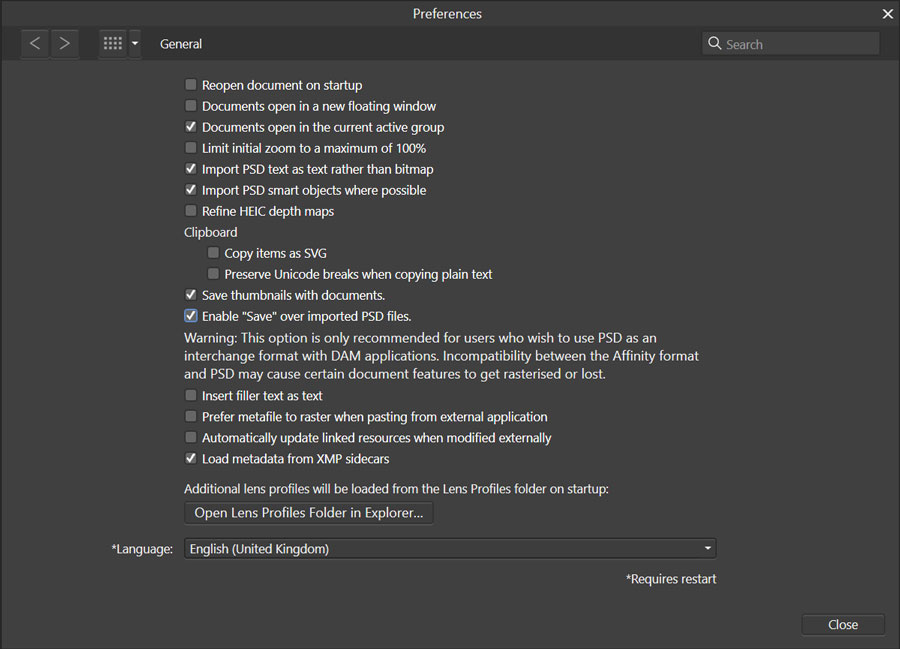 The Featured Image of This Post Is a PSD Edited in Affinity Photo
To ensure that I'm not talking out of my hat, I imported a layout that I'd designed in Photoshop, imported it into Affinity Photo, and continued editing it to create the Featured Image that you see at the top of this post. The file was then saved as a .afphoto file, which is Affinity Photo's native file format, and a JPG file was exported via "File > Export…" as mentioned above.
To complete the circle, I exported the modified design as a .PSD, and opened it up in Photoshop. It opened up perfectly fine, and there were no glitches.
However, the way that layer blending works means that Photoshop does not handle "Outer Glow" in the same way as Affinity Photo, which makes the space around the Affinity Photo Logo look really odd. The resulting image below is because of a quirk of Photoshop, and NOT a glitch in the Export process by Affinity Photo.
What Does This Mean for Designers & Retouchers?
Being able to reliably open, edit and save to PSD file format is especially important for Designers and Retouchers as PSD files remain at the very heart of their processes. Of course, there are options like the very versatile TIFF and PDF file formats, but it is nearly impossible to avoid encountering PSD files if you are a professional.
Having solid compatibility with Adobe PSDs on import, and export means that Affinity Photo can be used as a robust tool in a professional ecosystem, and be used in a variety of workflow scenarios.
No software is without bugs, but Affinity Photo seems to have information available that fixes the most common causes of its crashing.
Does This High Level of Compatibility Mean That I Don't Need Adobe Photoshop?
In previous articles, we have touched on whether Affinity Photo is in a position to replace Photoshop outright. Our advice then was to start slowly and to try incorporating Affinity Photo in progressively larger steps as you get more confident of its abilities. It does bear saying that Affinity Photo is a very capable tool, which exceeds Photoshop's abilities in some ways. However, it is not a drop-in replacement.
In terms of compatibility, Affinity Photo does have the ability to open and save PSD files, to use many Photoshop plugins, and it works well with Capture One Pro and other RAW conversion and design tools.
This ticks the boxes of many of the important requirements when planning a transition away from any software. So people who want to step away from Adobe's monthly subscription model may find that Affinity's software tools are a viable option.
If you have used Affinity Photo and have a different experience, tell us about it in your own words. Leave a comment, and help out the community.
What Have Our Readers Experienced With Affinity Photo?
Commenters on Reddit and Twitter have had varying experiences with Affinity Photo being able to open Adobe Photoshop files.
The Good Experiences
One commenter on Reddit said that Affinity Photo was the second Affinity product that they had purchased – after they saw just how well the first product handled .psd files. This commenter had opened a PSD file that was almost 5GB in size, and that had over 59 layers and adjustments.
There were others too who had not had issues with PSD files and Affinity Photo. However, that was not everyone's experience.
The Bad Experiences
Multiple commenters mentioned that Affinity Photo sometimes doesn't handle certain layers and groups, no matter what settings are used, and instead just flattens them upon export.
It looks to me like how you use PSD files affects how well Affinity Photo is able to interpret them. If you just have raster image data and adjustment layers, there may not be any issues. However, if you arrange your layers using Groups, and maybe vector layers, then you may see that Affinity Photo flattens out these layers. Stay tuned for updates
What Has Your Experience Been, With Affinity Photo?
We're still learning about Affinity Photo, so your input is incredibly valuable. If you would like to share your experiences with Affinity Photo, and whether they have been positive, or negative, please take 30 seconds to leave a comment below. Our future readers thank you!
If you have further questions, we've compiled a list of everything you may want to know about Affinity Photo. Check that out, and we hope that your question is answered there.
Help Us To Continue Creating
Get our email newsletter to stay up-to-date with our latest posts. It's easy to read and is mailed once in 2 weeks.
The easiest way to support Beyond Photo Tips is by using our affiliate links when you buy anything at all. It will never cost you anything extra, and we get a small commission from it, which helps us a LOT! Links below.
Some of the links to products on this website are affiliate links, and we only ever link out to gear that we recommend.
Links: Adorama | Amazon.com
Published: July 27, 2021 | Last Updated: February 3, 2022