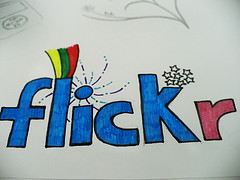 I'd found that I was restricting the images that I posted on Flickr to a great degree. Now, while that is a good thing to do, and while it does give you the compulsion to show off only your best work, it also makes me restrict my images to under 200 in total and I've not been posting much because of that. Now that I've jumped in the pool (with a measly $25), I'm going to have to post photographs more frequently, and of course, keep increasingly my image quality.
I did say "Increasing My Image Quality" just now, didn't I? So why am I downgrading my camera? It seems illogical even to me. However, I do believe in this little post I made some time ago entitled "It's the photographer, not the gear" Where I boldly stated that a better camera does not equal a better photograph.
I'm going to put that statement (and my photography skills) to the test. In the next few months I'm going to re-explore my photography and put up photographs taken for the most part on my trusty Konica Minolta Dimage A2 (even though I have some brilliant Film Cameras and two Canon 5D bodies at home).
Why?
Its going to be an exercise in seeing differently. True, seeing things on a dimly lit LCD based viewfinder system, but its a restriction that I want to work with. It means that I wont be able to see the picture I'm taking properly in broad daylight (the LCD sucks in daylight, so I'll have to use its measly LCD based viewfinder). It means I won't be able to change my lenses much. But again, why all the pain? Afterall, a Canon 450D or even a Canon 40D is quite affordable.
Here's Why
My work over the last few months has undergone a dramatic change. From mostly taking photographs alongside my Dad, I've moved to making websites. (Update: I've moved back to taking photographs, and making videos full-time in 2015).
Why would anyone choose websites over taking photographs? Because its a new challenge for me, and one that I've been wanting to explore for years!
Well, it's resulted in me sitting in office and slouching over my computer for days on end. Its taken a toll on me (and by extension, this blog). I've not been seeing much of the outside world :-P.
I'm still going to be huddled over the computer for a great portion of my day, but I've decided that at least a part of it is going to be dedicated to photography and the outdoors.
What Can You Expect?
Well, I think you can expect me to be thinking of photography a bit more in the months to come. Hopefully, I'll also be able to get down to posting my thoughts about photography and some of the new insight I gain in making the shift from Pro photography, to lay photography (strange deal, dont you think).
I hope you'll stay with me through this odd journey to share my strange world.
You're welcome to check out my Photographs before the deal on flickr.
If you come by later on, here are my most recent photographs on flickr.
Help Us To Continue Creating
Get our email newsletter to stay up-to-date with our latest posts. It's easy to read and is mailed once in 2 weeks.
The easiest way to support Beyond Photo Tips is by using our affiliate links when you buy anything at all. It will never cost you anything extra, and we get a small commission from it, which helps us a LOT! Links below.
Some of the links to products on this website are affiliate links, and we only ever link out to gear that we recommend.
We Partner with these Affiliate Programs: Adorama | Amazon.com | Moment
You could also show your appreciation by buying us a coffee. Finally, we appreciate you being a part of the community, so do say hi!
Published: August 10, 2008 | Last Updated: July 2, 2021