Wait, this is a phone… with a 1″ sensor. Not a camera. Sony has been on a roll recently. Hot on the heels of the release of their latest 'entry-level' full-frame camera the Sony A7IV, they've made news again with a PRO phone which features a 1-inch sensor that they have appropriated from their camera lineup: the aptly named Xperia PRO-I. This phone (camera?) sits alongside the $2,500 Sony Xperia Pro which was released in February 2021.
Both phones are professional tools that rightly deserve the 'pro' tag, unlike some others that have the tag just to denote a more premium version. So, what makes it stand out?
1 Inch Sensor and Optics
The Xperia Pro-I takes the 1.0-type Exmor RS sensor (aka 1″ sensor) from the well-known (and well-loved) Sony RX-100 Mark VII and integrates it into a phone!
Prominently mentioned in the marketing material is the fact that the I in PRO-I stands for 'imaging'. It's the sensor and the optics that make the camera on this phone stand out, and not any computational photography. This is something that many photographers will be happy about, as it means that they get to use the sensor as it was designed. It also means that the bokeh is real, and not fake.
The phone has three (3) 12MP sensors:
16mm f/2.2 ultra-wide, 1/2.5inch 1.4um
24mm f2/4 wide Zeiss Tessar T*, glass aspherical lens, OIS
50mm f/2.9 telephoto 1/2.9inch 1.2um, OIS
The wide and telephoto have OIS (Optical Image Stabilization) while the ultrawide camera does not. On the screen side, the Xperia PRO-I has an 8-megapixel selfie camera with EIS.
The optics are Zeiss branded and come with that coveted T* coating.
Variable Aperture, Phase Detect Autofocus, Face Detect and Tracking
The Xperia PRO-I's main camera features an f/2 aperture which can stop down to f/4 in brightly lit situations. This isn't a feature that is seen often in mobile phones, and of course, this allows for the option of slightly sharper backgrounds when needed (or slower shutter speeds for a more filmic look).
The 24mm and 50mm lenses (35mm format equivalent) also have phase-detect autofocus, which allows the user to smoothly rack focus from close to far either by tapping on the screen or using an on-screen control.
The autofocus is fast and accurate, with 315 phase-detection AF points that cover 90% of the frame, and has features like very responsive eye-detect autofocus and object tracking. The 3D iToF sensor allows the camera to detect the distance between the camera and the subject in low light, using IR light, to further supplement the AF.
The quality of images and low light performance seems to be quite impressive. Given that the pixel pitch is quite large when compared to many smartphone cameras that employ computational photography to boost the sensor's performance, this is something that we would expect. Sony has delivered on that promise.
The BIONZ X image processor that is integrated into the phone allows the camera to have a fast 20 frames per second capture rate while also retaining autofocus and auto exposure.
Professional Tools
The pro camera and video apps on the PRO-I borrow functionality from professional stills and video cameras, giving the user total control over the image being created.
The software interface is supposedly inspired by the Alpha camera range. There is also a basic mode.
Photo Quality and Resolution
Up to 20 FPS continuous shooting with AF/AE is available for the 24mm lens. The 16mm and 50mm lenses can shoot up to 10 FPS Auto Focus/Auto Exposure.
The cameras can shoot in 12-bit RAW for maximum data capture.
Video Quality and Resolution
The Xperia PRO-I supports high frame-rate internal 4K movie recording at up to 120fps. Additionally, it can record:
4K HDR at 24/25/30/60/120 fps
1080p at 30/60/120/240 fps
The video app also has 8 different color settings to set cinematic moods. The Venice CS setting is inspired by the CineAlta Venice, and features smooth colors and a lower contrast curve.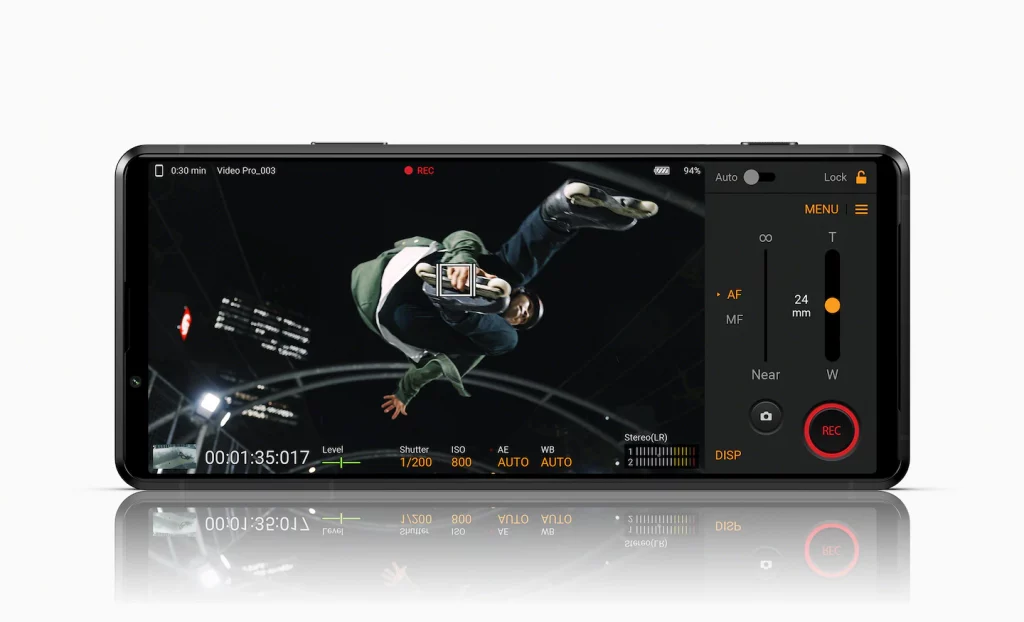 The phone features a rear-facing microphone in addition to the left and right stereo microphones. This allows for voice to be the focus while reducing background interference.
4K/120hz Display
Given that the Xperia PRO-I is also a stand-in for last year's Xperia PRO phone, it makes sense that the screen is a high resolution 6.5″ 4K OLED, with a 120Hz refresh rate.
The phone can be plugged into a range of Sony Alpha cameras, to be used as a bright, high-quality monitor and controller…
Vlog Monitor
For content creators who want to use the powerful sensors it features for vlogging, or for other forms of content creation, Sony is also offering an optional 3.5-inch magnetic screen that can be attached to a metal holder. This links up with the camera to monitor video that's being shot with the rear-facing camera… Ideal for vloggers. The monitor also features a 3.5mm jack which allows you to plug in an external microphone, which can be mounted on top of the holder via an in-built accessory shoe.
You can also connect to Sony's Bluetooth shooting grip to make all of this easier, and also to provide a short tripod when needed.
Build Quality
Like its predecessor, the camera is rugged and built of metal. The finish is sleek and tough.
There is a grippy edge, with a fingerprint reader built into the power button. On the bottom right is a shutter release button, and next to it, a programmable function button. The shutter button allows you to half-press it like you would a real camera. Also, long-pressing it acts as a shortcut to quickly launch the photography app.
The phone has a strap-hole, and you can add a wrist-strap for peace of mind when you're trying to capture a photo over the edge of a cliff, or over water.
The body is also IP65/68 rated.
Audio
The phone has a 3.5mm headphone jack, and supports the output of Hi-Res Audio both via the jack, and wirelessly.
It has two front-facing stereo speakers for balanced audio output when either playing music, video, or while playing games.
It's Also A Phone
This camera (sorry, had to call it that) is also a phone … and a flagship-level one at that. This means that it comes with a top-grade processor, RAM, storage space, and of course, battery capacity with 30-watt fast-charging.
Processor: Snapdagon 888
RAM: 12GB
Internal Storage: 512GB UFS
External Storage: Up to 1TB via micro SDXC card
Battery: 4,500 mAh with USB PD fast charging to 50% in 30-minutes
OS: Android 11
Pricing
The Xperia PRO-I comes with a price tag of $1,800 in the US. Pre-Orders open on October 28th, and the expected general availability is in December 2021.
Image Credits: Sony
A Collection Of YouTube Reviews
James Matthews – Video Samples
James Matthews does a good job of exploring the video AF and low-light video capabilities of this camera. Definitely recommend watching this if you're interested in shooting a video.
Unbox Therapy – Overview
This video gives you a good overview of what the phone is all about, but don't rely on it to get very good image or video samples. Good screen capture of the eye AF though.
Tony Northrup – Low Light Photos, but (IMO) incorrect comparison with iPhone 13 Pro
While Tony gives us a good example of what this camera is capable of in low light, I think he shouldn't have compared it with the iPhone 13 Pro. What do you think?
The Art Of Photography – A Good Overview.
A good overview of the camera and phone, but a few details need updating. See his comment.
Help Us To Continue Creating
Get our email newsletter to stay up-to-date with our latest posts. It's easy to read and is mailed once in 2 weeks.
The easiest way to support Beyond Photo Tips is by using our affiliate links when you buy anything at all. It will never cost you anything extra, and we get a small commission from it, which helps us a LOT! We share our recommended equipment list here.
Some of the links to products on this website are affiliate links, and we only ever link out to gear that we recommend.
We Partner with these Affiliate Programs: Adorama | Amazon.com | Moment
You could also show your appreciation by buying us a coffee. Finally, we appreciate you being a part of the community, so do say hi!