I came upon the Saramonic SmartMic (also called the i-Mic) by accident, while window shopping at FotoTrade. I mistakenly thought it was similar to the Rode SmartLav+ and was quite surprised to find a similar product at that price point. I was in for a surprise when I opened it up back home. It wasn't like the SmartLav+.
What is the Saramonic SmartMic?
The Saramonic SmartMic is a small, slightly directional condenser mic that plugs directly into a smartphone's earphone jack using the 3.5mm TRRS Connector (same as your corded headphones with mics). There is no cord; instead, it sticks directly out of the mobile device that you connect it to. It works both with iOS and Android devices (or with your computer that has the right kind of jack). It doesn't seem to work with normal microphone sockets, so don't buy this mic if your computer has two separate sockets for the headphone and microphone jack.
As I recently found out, it is quite a versatile and useful device to have in your video creation arsenal.
A High Quality Microphone Always at Hand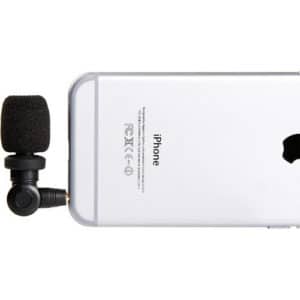 The SmartMic is tiny enough to easily fit into the corner of a camera bag pocket. Somewhere out of the way for an emergency that requires you to use it. It's also small enough to be carried around on most days, waiting for an occasion when you don't have your portable audio recorder like a Zoom H6 with you. With some care, this little mic is good enough to record audio that can be used for broadcast video or audio.
The integrated shock mount and accompanying foam cover give you pretty decent audio quality while recording on the move, but for windy situations, you'd obviously need a fur windscreen.
What Can the Saramonic SmartMic Be Used For?
While audio quality can be good in a quiet place, even verging on really good, the media to which it records suggests that the SmartMic is more of a backup solution or a solution for someone who wants to make amateur or home videos that have good audio. Having said that, I should also say that when used correctly, this mic can produce good audio. Listen to the audio samples below to decide for yourself.
1. Good Directionality
The fact that it has an articulating joint means that the mic can be pointed in the direction of the action. The audio pickup is slightly directional. This means that interfering sounds are minimized – as much as such a small mic can… The microphone has a built-in damper (shock mount), so bumps to the phone or tablet to which it is connected will not get recorded easily.
2. Vlogging with Your Phone
I can easily imagine it being used for vlogging, audio interviews or as a podcasting-on-the-go microphone. Run and gun shooters can use it in situations where they need to have better audio quality than a built-in microphone, but can't take the time, and don't have the crew to manage dedicated audio recorders and microphones.
3. Connecting to Some Laptops
If you have a laptop with a TRRS connector (combined mic and headphones jack), then you could connect this microphone and point it to your mouth to get better audio when chatting on skype, or making screen-captures.
The ease of use makes it a no-brainer for anyone who shoots video to carry this in their cable bag, or in a side pocket of their camera bag. It is very versatile and makes for a handy standby microphone in most situations.
4. Good Audio Recording Quality
The audio quality is quite good. Here are some samples recorded on the Saramonic SmartMic plugged into the headphone jack of a OnePlus 3T, recording using the built-in record app. The app is set to record uncompressed WAV files, and I have converted them to .mp3 using Adobe Audition.
Recorded in a quiet room with some ambient sounds too:
As you can hear from the sample, the audio quality is good, with reasonable plosive control from the foam cover. The 90-degree directionality of the mic rejects most sounds that originate behind it, yet gives it a good spread for use with a cellphone (see image below).
Definitely on my recommended gear list.
Rugged, With Good Damping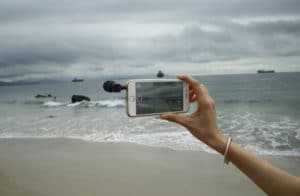 The microphone feels rather rugged. It is covered in non-slip rubber, and the movable joint offers a fair amount of resistance when moved. It gives me the impression that it's not something that will begin moving freely if used often. The integrated shock mount is quite useful and does not transmit handling sounds.
One really useful feature is the lack of cables. This is so useful when you are a single photographer or videographer. It just keeps things simpler.
The SmartMic isn't something that you need to handle daintily, and with caution. Although, I'd always recommend being careful with your equipment. ;) Waste-not, Want-not. Right? Well, the SmartMic is quite rugged, and I think it will see you through quite a few years of rugged use.
Tech Specs
| | |
| --- | --- |
| Directional Audio | Directional 90° mic capsule |
| Directional Audio | Directional 90° mic capsule |
| Type | Electret condenser |
| Connector | TRRS (3.5 mm jack) for iOS and Mac |
| Frequency Response | 35 Hz to 18 kHz |
| Signal to Noise Ratio | 74 dB SPL |
| Weight | 21g |
Saramonic SmarMic Tech Specs
Saramonic SmartMic Pricing
The Saramonic SmartMic is quite well priced for the quality it delivers. At just under $20, it is a good deal for anyone who is particular about the quality of the audio that they record, but who doesn't want to carry too much equipment. Obviously, there are cheap Chinese mics that come close to this value but don't really have the features that this microphone does. The built-in vibration damping shock-mount and sturdy build quality make this mobile microphone stand out from the rest. The quality of the audio recording is also good for such a small microphone.
Buy Saramonic SmartMic on Amazon.com (aff)
Buy Saramonic SmartMic on Adorama.com (aff)
No Headphone Socket, No External Mic!
In today's (2020 onwards) world where smartphones without headphone sockets are more common than those with, this microphone no longer has a place in my camera bag. This is a piece of equipment that will be retired from my camera bag.
Help Us To Continue Creating
Get our email newsletter to stay up-to-date with our latest posts. It's easy to read and is mailed once in 2 weeks.
The easiest way to support Beyond Photo Tips is by using our affiliate links when you buy anything at all. It will never cost you anything extra, and we get a small commission from it, which helps us a LOT! Links below.
Some of the links to products on this website are affiliate links, and we only ever link out to gear that we recommend.
Links: Adorama | Amazon.com
Published: November 17, 2017 | Last Updated: August 16, 2021