When you're out taking street photographs, you'll sometimes want to capture an image without putting your eye to the viewfinder. Setting your lens to its Hyperfocal distance will allow you to capture fleeting moments that you would otherwise have missed if your camera was not always at the ready.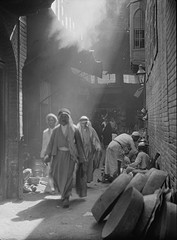 Here's a trick for all you technical photographers out there!
Setting your lens in manual focus mode
Set your camera to a small aperture size, like f/11 or f/16
Now, fix focus at its Hyperfocal distance. Each lens will have a slightly different hyperfocal distance, which changes with the aperture.
Doing this will allow you to take photographs with a great deal of flexibility, often allowing you to shoot from your hip, or while supporting the camera on a steady surface. This is a very un-obtrusive way to take pictures.
What is Hyperfocal Distance?
Hyperfocal distance is the distance between a camera lens and the closest object which is in focus when the lens is focused at infinity. When you set your lens's focus to this distance, the depth of field extends from a distance even closer than the hyperfocal distance, all the way up to infinity.
Remember that the Hyperfocal distance focusing technique works best when you're using a rather small f-stop, like f/11, f/16, or f/22, so set your camera in aperture priority mode and shoot on a relatively sunny day, and you'll find nearly everything in focus. Of course, this works best if you're using a wide-angle or normal lens.
I've managed to get everything from infinity to objects around 4 feet away in good focus while trying this technique recently, with my Nikon F3 and a 50mm lens. It worked great!
Do try it out and let us know how it worked for you, or if you've got some other tips involving Hyperfocal Distance or Street Photography, do share them with us in the comments.
Help Us To Continue Creating
Get our email newsletter to stay up-to-date with our latest posts. It's easy to read and is mailed once in 2 weeks.
The easiest way to support Beyond Photo Tips is by using our affiliate links when you buy anything at all. It will never cost you anything extra, and we get a small commission from it, which helps us a LOT! Links below.
Some of the links to products on this website are affiliate links, and we only ever link out to gear that we recommend.
We Partner with these Affiliate Programs: Adorama | Amazon.com | Moment
You could also show your appreciation by buying us a coffee. Finally, we appreciate you being a part of the community, so do say hi!
Published: September 20, 2008 | Last Updated: October 8, 2022