The Hyperfocal Distance of a lens is the focus point that is very useful to know. The Hyperfocal distance is especially useful in street photography with manual lenses. When you're out on the streets, taking photographs, you'll sometimes want to capture an image without putting your eye to the viewfinder.
Setting your lens to its Hyperfocal Distance will allow you to capture fleeting moments in sharp focus, that you would otherwise have missed. This is one of the reasons why I've found that using the Hyperfocal Distance in street photography is an important technique, and why I want to explain it in more detail.
What is Hyperfocal Distance?
Hyperfocal distance refers to the focus distance that maximizes the depth of field for a given aperture and lens. It is the distance between a camera lens and the closest object which is in focus when the lens is focused at infinity. When you set your lens's focus to the hyperfocal distance, the depth of field extends from half the hyperfocal distance, all the way up to infinity.
Remember that the Hyperfocal distance focusing technique works best when you're using a rather small f-stop, like f/11, f/16, or f/22, so set your camera in aperture priority mode and shoot on a relatively sunny day, and you'll find nearly everything in focus. Of course, this works best if you're using a wide-angle or normal lens.
I've managed to get everything from infinity to objects around 4 feet away in good focus while trying this technique recently, with my Nikon F3 and a 50mm lens. It worked great!
How to Use Hyperfocal Distance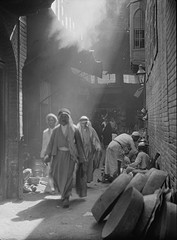 Here's a trick for all you street photographers who love an extremely deep depth of field!
Set your lens in manual focus mode
Set your camera to a small aperture size, like f/11 or f/16
Now, fix focus at its Hyperfocal distance (see below on how to determine this focal point). Each lens will have a slightly different hyperfocal distance, which changes with the aperture, so you'll have to know your lens before you do this.
Determining The Hyperfocal Distance of a Lens
Aperture Setting: Decide on the aperture (f-stop) you want to use for the shot, based on the desired depth of field.
Use a Chart or App: Many photographers use a hyperfocal distance app or chart that's tailored to their camera and lens. Simply match your chosen aperture and focal length to find the hyperfocal distance.
Focus on an Object at That Distance: Find an object at the calculated hyperfocal distance and manually focus on it, or use autofocus and then switch to manual to lock the focus.
Verify Through Live View or DOF Preview: If your camera has a depth of field preview button or live view feature, you can use this to confirm that everything from half the hyperfocal distance to infinity falls within the acceptable focus range.
Shoot Confidently: Now you can shoot, knowing that everything within the desired range should be in focus.
Setting up your camera in this way will allow you to use Hyperfocal Distance in street photography. It will allow you to take photographs with a great deal of flexibility because of the incredible depth of field that you can achieve.
It will allow you to shoot from your hip, or to take photographs while supporting the camera on a steady surface, all the while not looking through the lens to ensure focus, yet nailing focus every time. This is a very unobtrusive way to take candid street pictures.
Usage of Hyperfocal Distance in Street Photography
In street photography, hyperfocal distance can be an invaluable tool for capturing spontaneous and dynamic scenes with a wide depth of field. Here's how it can be applied:
Pre-focusing: By setting the focus distance to the hyperfocal distance, photographers can pre-focus their lens, allowing them to capture moments without the delay of autofocus. This is especially useful in fast-paced environments like busy city streets.
Wide DOF: Using the hyperfocal distance, photographers can ensure that both foreground and background elements are in focus. This can add complexity and context to a street scene, as it allows the viewer to explore different layers within the image.
Zone Focusing: Zone Focusing is a technique where photographers set their lens to the hyperfocal distance, and then only shoot subjects that fall within the range of acceptable sharpness. It allows for quick and intuitive shooting, as photographers can ignore the focus and concentrate on composition and timing.
Aperture Considerations: Smaller apertures (higher f-numbers) result in a greater depth of field and a shorter hyperfocal distance, making this setting advantageous in street photography.
Visual Storytelling: Utilizing the hyperfocal distance lets photographers include more contextual elements in their shots, creating richer visual narratives that encapsulate the essence of the street.
Using it In Your Photography
In short, the concept of the hyperfocal distance is great for manual focus street photography. It keeps things simple, allowing you to concentrate on the street life unfolding around you, while minimising the need to track things on the camera. Though determining your lens's hyperfocal distance has become slightly more difficult since lense manufacturers removed depth-of-field scales from lenses, the concept is still relevant and useful in street photography today.
Try Street photography with hyperfocal distance techniques… The techniques listed above should be of some use. We'd love to see the results, so let us know how it worked for you, or if you've got some other tips involving Hyperfocal Distance or Street Photography, do share them with us in the comments.
Help Us To Continue Creating
Get our email newsletter to stay up-to-date with our latest posts. It's easy to read and is mailed once in 2 weeks.
The easiest way to support Beyond Photo Tips is by using our affiliate links when you buy anything at all. It will never cost you anything extra, and we get a small commission from it, which helps us a LOT! We share our recommended equipment list here.
Some of the links to products on this website are affiliate links, and we only ever link out to gear that we recommend.
We Partner with these Affiliate Programs: Adorama | Amazon.com | Moment
You could also show your appreciation by buying us a coffee. Finally, we appreciate you being a part of the community, so do say hi!