If you use Affinity Photo, your work is most likely saved in files with the .afphoto extension. Saving files in Affinity Photo's proprietary (.afphoto) file extension enables you to use the software's various non-destructive editing features. However, you may need to export a file to .psd format in order to collaborate with another person or to provide a file format that another software understands well. In these cases, you must understand how to convert .afphoto to .psd file format as well as any limitations that may apply while converting files.
First, let's convert files using Affinity Photo. The export settings are slightly different in Affinity Photo V1 and V2, so we'll tackle them separately.
Convert .afphoto to .psd with Affinity Photo 1.x
Using Affinity Photo on Windows or macOS to convert your .afphoto files might seem like the most logical approach to take, as Adobe Photoshop does not recognize .afphoto files. Here's how you can do it.
Open your .afphoto file in Affinity Photo.
Click File > Export… (Ctrl+Shift+Alt+S in Windows and ⌥+⇧+⌘+S in Mac OS)
Click PSD, and select one of the three PSD presets that best suits your need:

PSD (preserve accuracy)
PSD (preserve editability)
PSD (Final Cut Pro X)

Click Export and select the destination for your PSD file.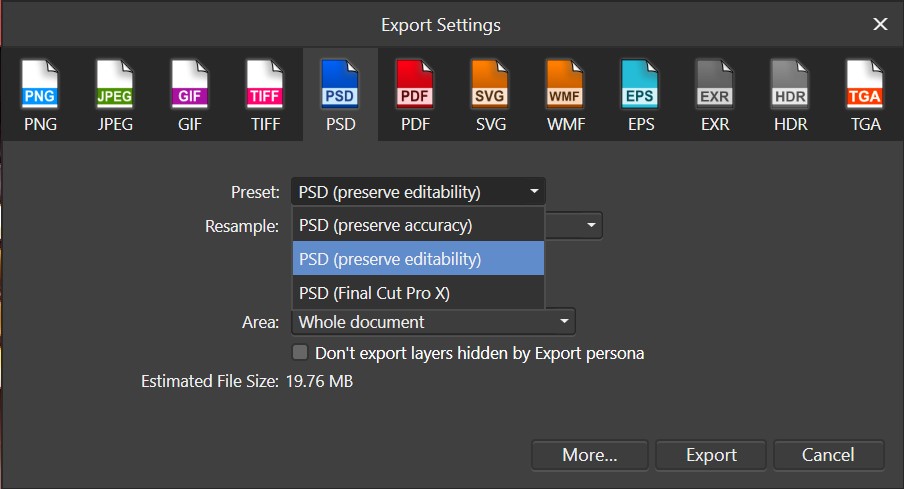 Do note that you can use the same "export" process to save your .afphoto file as PNG, JPG, GIF, TIFF, PSD, PDF, SVG, WMF, EPS, EXR, HDR, and TGA formats.
In each of these tabs, clicking the "More…" button that is to the left of the "Export" button gives you options that allow you to further fine-tune your export settings. These settings are specific to the file format being exported. I find it useful to inspect these options before exporting my images.
Convert .afphoto to .psd with Affinity Photo 2.0
Affinity Photo 2 is the latest version of the app. While Affinity Photo 2 will open .afphoto files saved in Affinity Photo v1, the files are not backward compatible. Files saved using Affinity Photo 2.x files will not open in Affinity Photo 1. However, both versions can be installed on a single computer at the same time.
To convert a .afphoto file in Affinity Photo 2.0, follow this simple process.
Open the .afphoto file in Affinity Photo 2.
Click File > Export… (Ctrl+Shift+Alt+S in Windows and ⌥+⇧+⌘+S in Mac OS)
Select PSD from the dropdown at the top of the window, and then choose a preset. Here, I've used the "Preserve editability" preset so that I can continue to edit the file in Photoshop. Affinity Photo 2 has the same three presets as the previous version: Preserve Accuracy, Preserve Editability, and Final Cut Pro X

If you want more control, you can choose between "Preserve Editability" and "Preserve Accuracy" for various Affinity Photo file features like Gradients, Adjustments, Layers Effects, Lines, and Advanced Blending.
Check that the image looks ok in the preview that's visible to the left of the Export Settings pane, and if everything looks OK, press the Export button at the bottom.
Choose the file name and folder where you want to save the file, and click Save in the dialog box that pops up.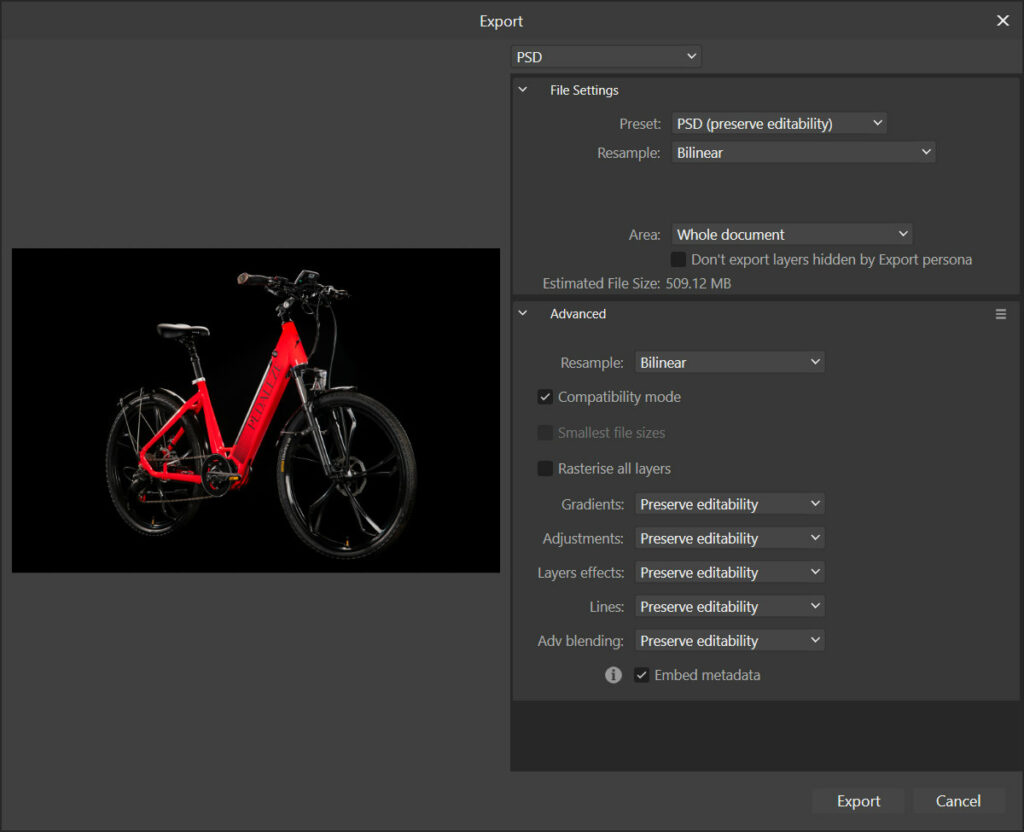 Convert .afphoto to .psd with Photopea
Photopea is a website that allows you to edit images much as Photoshop and Affinity Photo do. In this case, you can use Photopea to open a .afphoto (Affinity Photo) native file, and then save that file as an Adobe Photoshop .psd file. Here are the steps that you would follow to save a .afphoto file as .psd
Open photopea.com
Click Open From Computer, and select the .afphoto file that you want to convert.
The file will upload and open in Photopea, with all the layers shown. Inspect the file and ensure that it is displaying correctly without errors. Once you're happy with the way the file displays, you can move to the next step. If there are errors, correct them before moving on.
Click File in Photopea and then select Save as PSD.
A dialog box will open asking you to enter the name of the file that you would like to save as. Fill in a name that you would like, select the correct destination folder and then click Save.
In many cases, there will be no issues with your files. However, I found that Photopea didn't open some Affinity Photo 2 layers properly. Adjustment layers with a mask showed the mask alone as a black-and-white image layer, and Live stacked groups showed up as a folder with the individual images showing up as layers. This could be restricted to Version 2.0 .afphoto files, and Affinity Photo v1 files may work perfectly well. We will have to wait until Photopea updates its capabilities to include V2 files.
I tried the same with a PSD file, and it opened up perfectly fine in Photopea, so Photopea understands stacked layers and smart objects, but not Affinity Photo's implementation of them. My suggestion at this time is to use Affinity Photo to convert .afphoto files.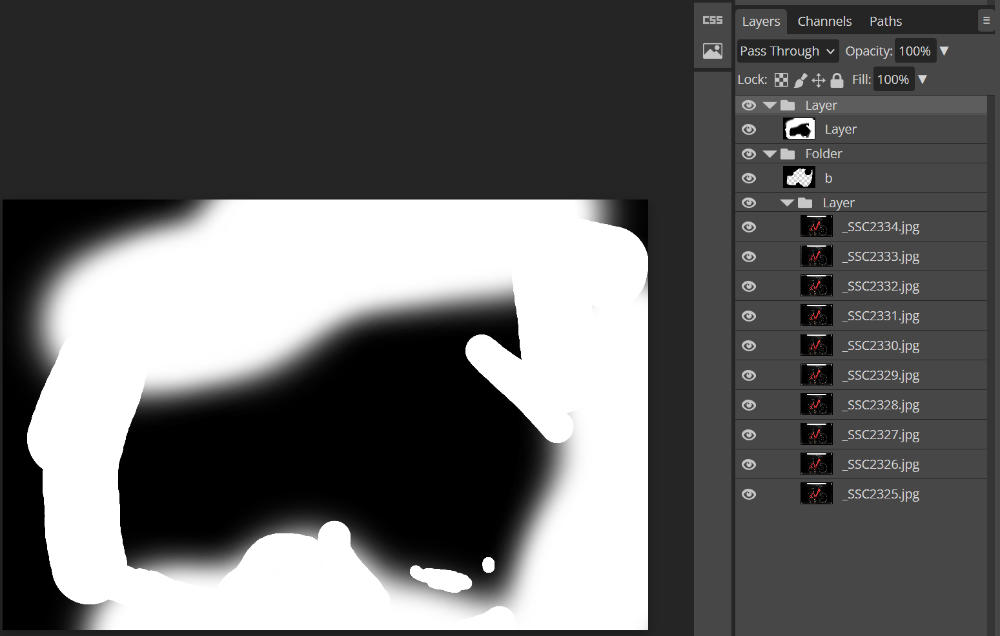 Can You Open Affinity Photo Files With Photoshop?
No Adobe Photoshop does not open Affinity Photo .afphoto files. At the time of writing, the latest version of Adobe Photoshop was unable to open .afphoto files, and instead returned an error box that stated "Could not complete your request because it is not the right kind of document".
Why Use .afphoto File Format?
Affinity Photo's native proprietary file format ends with the .afphoto extension. While TIFF files can save layers and transparency, each application has its nuances and certain features that may not be fully compatible with other applications. This is why you would want to save a file that you're currently working on in Affinity Photo's native file format – .afphoto.
When working with images, it's important to choose the file format that will work best for you and your project. In general, you should use the native file format for the application you're using, to avoid any compatibility issues. However, ultimately the end-use may be in other file formats like JPG, PNG, GIF, or TIFF.
You may think that PSD is a rather universal file format, but it is also a proprietary file format that Adobe developed for Adobe Photoshop. Each successive version of Photoshop allows you to save files with new features as they're developed, but also has a provision to build backward compatibility into the file, at the expense of having larger file sizes.
Some of Affinity Photo's layer features and options are not fully compatible with other file formats, and for this reason, you may find that your edits are better preserved when using Affinity Photo, by saving your files in the application's native format.
Help Us To Continue Creating
Get our email newsletter to stay up-to-date with our latest posts. It's easy to read and is mailed once in 2 weeks.
The easiest way to support Beyond Photo Tips is by using our affiliate links when you buy anything at all. It will never cost you anything extra, and we get a small commission from it, which helps us a LOT! Links below.
Some of the links to products on this website are affiliate links, and we only ever link out to gear that we recommend.
We Partner with these Affiliate Programs: Adorama | Amazon.com | Moment
You could also show your appreciation by buying us a coffee. Finally, we appreciate you being a part of the community, so do say hi!