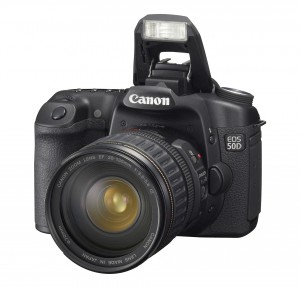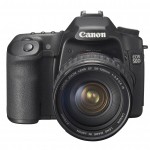 Canon's Advanced Amateur range of cameras just got updated with their new EOS 50D. The next-in-line after the extremely popular Canon EOS 40D. Estimated to come into the market at around the $1,399 (US) mark, this camera has a host of features that would make even owners of the semi-professional EOS 5D feel envious.
With features like this one wonders what's in store for the rumoured Canon EOS 5D MkII. Will it be a 16 Megapixel camera? take a look at the stats for the EOS 50D and wonder…
Here's a quick list of some of the key features of the Canon EOS 50D:
15.1 Megapixel CMOS Sensor (APS-C)
Digic 4 processor capable of peripheral illumination correction and Auto Lighting Optimization
ISO Speeds up to ISO 12800 in H2 mode (regular speeds ISO 100 – ISO 3200)
4 Noise Reduction modes
High-Resolution 3inch LCD screen (

920,000 dots)

Live View Function with Face Detection Live mode

HDMI Support for HDTV preview
Specs and additional press release at DPReview.com.
Now, if you've been following this blog, you'll know that I'm a Canon user and fan… who could resist features such as these? If you're a Nikon user, you'll be waiting to see what they have to offer in the coming months… especially now that Photokina 08 is just around the corner.
If you're looking for more about the EOS 50D, here's an excerpt from the Canon USA Press Release.
The EOS 50D Digital SLR camera's 15.1-megapixel CMOS APS-C size image sensor has been improved thanks to the use of newly designed gapless microlenses over each pixel to reduce noise and expand sensitivity up to ISO 12800. The faster processing speed of the camera's DIGIC 4 image processor contributes to the fast 6.3 frame-per-second (fps) continuous shooting capability (for bursts of up to 90 Large/Fine JPEGs or 16 RAW images on a UDMA CF card), to give shooters the tools they need to capture that perfect moment in perfect clarity.

As part of the camera's internal image processing, the Canon EOS 50D Digital SLR camera conducts peripheral illumination correction, which automatically evens brightness across the image field, making an image of a blue sky even toned throughout, a function previously accomplished through post-processing software on a personal computer. Thanks largely to the DIGIC 4 processor, this automatic adjustment can be made in-camera during shooting with JPEG images or corrected in post-photoshoot processing with RAW images through Canon's Digital Photo Professional (DPP) software, which is supplied at no extra charge.
Edit: You can find links to buy the camera at Amazon.com here: Canon EOS 50D.
Help Us To Continue Creating
Get our email newsletter to stay up-to-date with our latest posts. It's easy to read and is mailed once in 2 weeks.
The easiest way to support Beyond Photo Tips is by using our affiliate links when you buy anything at all. It will never cost you anything extra, and we get a small commission from it, which helps us a LOT! Links below.
Some of the links to products on this website are affiliate links, and we only ever link out to gear that we recommend.
Links: Adorama | Amazon.com
Published: August 26, 2008 | Last Updated: August 8, 2021