If you don't do this one thing, you will lose all your edits when your Lightroom catalog file gets corrupted.
This is the one setting that I always turn on as soon as I install Adobe Photoshop Lightroom (LR) on any computer: Automatically Write Changes into XMP.
I suggest that you do it too, because it has saved me many times. I really don't know why Adobe sets this to 'off' by default. It should always be turned on! Here's how to turn on XMP sidecar files for Adobe Lightroom Classic.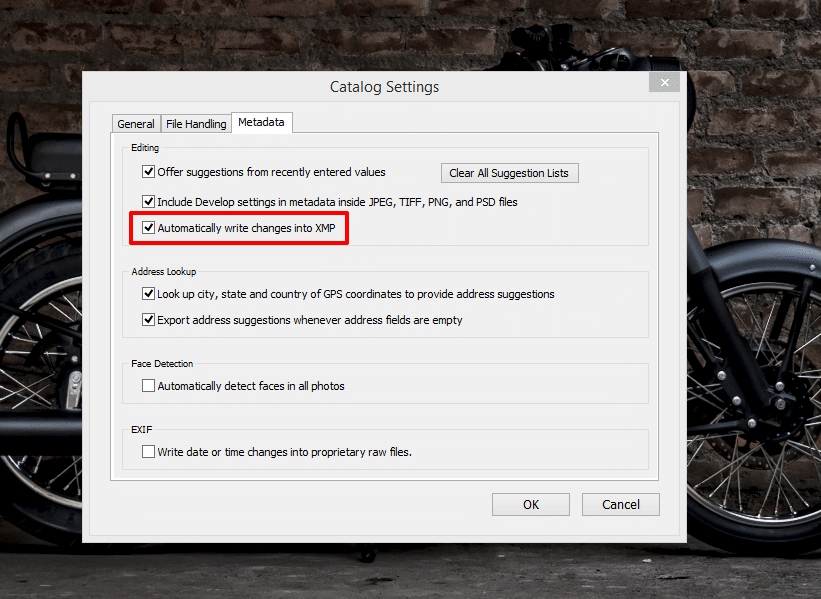 How To Automatically Write Changes into XMP:
Start up Adobe Lightroom Classic CC
PC: Edit > Catalog Settings… | Mac: Lightroom > Catalog Settings…
Metadata Tab: Ensure that the third checkbox is ticked: "Automatically Write Changes into XMP".
Click OK.
Let Lightroom add .xmp files next to each of your photographs in your library. This may take some time.
If you decide to close Lightroom Classic before all the .xmp files have been written, you'll get a notification telling you that Adobe Lightroom is still writing files. Don't worry, the process will continue from the last point it stopped at when you next open the program.
How To Manually Write Changes to XMP "Save Metadata To File"
You can also create .xmp sidecar files manually by selecting the files, the choose Metadata > Save Metadata To File in the menu, or press Ctrl+S (Win) or Cmd+S (Mac).
Lightroom will immediately create .xmp sidecar files so that you can copy the settings, along with the RAW files. This can be handy when using a computer other than your own.
Why XMP Sidecar Files Are Important For Photographers
If that little intro wasn't enough to convince you, I'll explain a little more about why XMP files are being used by Adobe Lightroom Classic.
Why Use XMP Files At All?
By default, Lightroom Classic saves all your adjustments in its catalog file, located somewhere safe on your hard disk. It doesn't edit your RAW files at all.
That's one of the beautiful things about the non-destructive RAW editing process. All your RAW image data is left intact. This is mainly true for proprietary RAW formats by various camera manufacturers. Since these settings can't be written to the RAW files, Adobe uses Extensible Metadata Platform (XMP) standard to create files which store metadata such as descriptions, keywords, credits, and even the adjustments and various other settings that are made in Adobe Photoshop Lightroom Classic.
The Unexpected Benefit of Using XMP Sidecar Files
All this thankfully means that if your Lightroom catalog file is corrupted, deleted, or just lost in your backups and you can't find the right one, then all the edits that you've done to your RAW files, the selections, the star ratings, are all there… right next to your RAW file, in the XMP sidecar files.
XMP files also come into use when you move your RAW files, or when you want to keep those edits and metadata, without the LrC Catalog file. It also allows you to see the edits in a different application, like Adobe Camera RAW, or Photoshop.
In the past, I've had Lightroom Classic crash, leaving me with a corrupted .lrcat Catalog file. This meant that my edits were gone, and many thousand files had to be re-edited. That's not a situation I ever want to find myself in.
When Are XMP Files Really Useful?
Maybe you're trying to free up space on your main work drive, or maybe you're just backing up data, and somehow, your RAW files and the associated catalog files get disassociated. 
If those XMP files aren't being saved next to your RAW files, then you may as well forget that you ever retouched/corrected those images because Lightroom will not be able to reference those changes when you open them up in their new location.
When the tick box is on, all the changes and adjustments that you apply to each image in lightroom are saved to small .xmp files that have the same name as your original RAW files. Here's what they look like in Windows Explorer.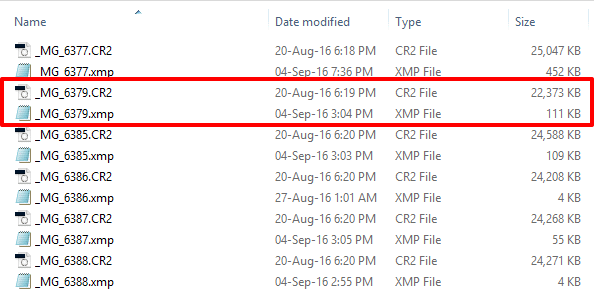 1. Seeing Your LR edits in Adobe Camera RAW, and Vice-Versa
If this check box has been off until now, you may have noticed that changes that you make in Lightroom don't show up in Adobe Camera Raw (ACR).
However, once you turn it on, your edits will always be in sync between Adobe Camera Raw, Photoshop, Lightroom Classic CC, or even if you browse through files in Adobe Bridge. The process is seamless and you don't have to think about it once it's turned on. It feels like a magical moment when everything works seamlessly. 
And that's not even the best part!
2. Backing Up, or Moving Files is Now Easy
The best part is that when you copy or move your RAW files (along with the new XMP files) you no longer have to worry about whether you need to save a new Lightroom Catalog file for that particular folder.
Your edits will move along with your RAW files in the form of the '.XMP' sidecar files. They'll always be available to applications that can read the sidecar files, and will always be updated when you make edits to the picture, automatically syncing across Adobe apps. Isn't that convenient?
You also don't have to worry about corrupted Lightroom Catalog files anymore. You'll essentially have a backup of your catalog split across each folder that you save your RAW files in.
3. Sharing Edits Across the Internet
If you're working with a retoucher, this comes in handy. You can send them your RAW files to edit. Once all the work is done in Lightroom, all they have to do is send you the .xmp files.
You just copy them into the folder alongside the original RAW files et Voila, you have the retoucher's edits displayed in Lightroom! Of course, this does not work with Photoshop edits. Only ACR and Lightroom Classic CC
This is a fast and efficient way to work with retouching houses that work remotely. The .xmp files are quite small, so file storage and transmission are easy.
4. One Exception; Performance.
Lightroom Performance can be one exception to this rule… If you're looking to improve the speed of lightroom's responses to your edits, you must turn this setting off.
With modern computers the reduction in speed may not be all that significant, especially with today's fast SSDs. However, if you see a reduction in speed, this is one thing to look out for.
One Small Setting, a Powerful Result
There you have it! A simple settings change in Adobe Lightroom Classic CC, that can dramatically change the way you work, and the safety of your edits. It can also keep your work safe from the specter of database corruption.
Do you have any thoughts to add to this? Please leave a comment below if you do!
Get a Free Trial of Adobe Lightroom.
Help Us To Continue Creating
Get our email newsletter to stay up-to-date with our latest posts. It's easy to read and is mailed once in 2 weeks.
The easiest way to support Beyond Photo Tips is by using our affiliate links when you buy anything at all. It will never cost you anything extra, and we get a small commission from it, which helps us a LOT! Links below.
Some of the links to products on this website are affiliate links, and we only ever link out to gear that we recommend.
Links: Adorama | Amazon.com
Published: September 6, 2016 | Last Updated: February 6, 2022