Photo:
Vincent Boiteau
Black & White photography is obsolete. It is antiquated, and exists for no reason at all, save our desire to see the world as we can't see it. In Black & White.
Of course, history has it's reasons why Black & White photography had to come first. Even when Colour Photography was first invented, there was good reason why photographs were still taken with Black & White film… It was cheaper.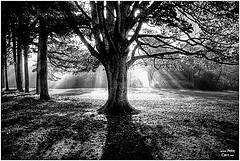 Photo:
Pete Carr
But it's not the same today… Today there's no cost involved in choosing between Black & White, and Colour Photography. So why then, in this day and age, when our photographs are taken in 36 or 48 bit colour, almost by default, why do we still have a desire to see the world in simple Black & White?
Could it be that Black and White Photography is Timeless? Or maybe it reminds you of a time gone by, in which everything was perfect? or is it just our desire to see things as they are not… as they never will be?
Do you have an answer? or something more than an answer?
Yes? Please, do share it with us…
Published: November 10, 2008 | Last Updated: August 26, 2016