Black & White photography is obsolete. It is antiquated and exists for no real reason at all, except for our desire to see the world as we can't see it. In Black & White.
Shouldn't we just abandon it as a technology that is no longer needed? Perhaps not. Black and White is more than just the way that images are created. It's also how we look at those images, and what they make us feel.
Is Everything About Money?
Of course, history has its reasons why Black & White photography had to come first. Even when Colour Photography was first invented, there was a good reason why photographs were still taken with Black & White film… It was cheaper.
But it's not the same today… Today there's no cost involved in choosing between Black & White, and color photography. So why then, in this day and age, when our photographs are taken in 36 or 48-bit color, almost by default, why do we still have a desire to see the world in simple Black & White?
The Simplicity of Monochrome
With all the color stripped away, a black and white image could have been taken at any time. It reduces the world to the simplicity of light, vs no light (or less light), and shape. How could anything be simpler than that?
Yet, creating a masterfully composed, and exposed, black and white image on film is an art that people take years to master. They choose their tools and hone their skill, the zone system, pushing film, pulling prints, using different contrast papers and developers… These are all skills associated with developing and printing black and white film images. There's a reason why this has a charm of its own, and there's a reason why photographers are still so passionate about it today.
This brings us to the added complexity of digital vs film photography.
What is True Monochrome?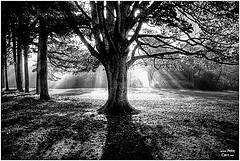 Does an image that is photographed with an RGB camera sensor count as black and white if it is simply desaturated? That's not what film does – at least, not all the time.
Black and White film comes in different types. Panchromatic, and Orthochromatic. While Panchromatic film is sensitive to all frequencies of the visible light spectrum, Orthochromatic film is not sensitive to red light. This means that red objects are represented as being darker.
So, black and white representation in film is not the same as just desaturating a digital image. This is why Lightroom applies a special 'formula' when you decide to turn your images into 'monochrome'. That's why Leica brought out a digital camera that only shoots in Black and White… The Leica M Monochrom.
It's why people love black and white images. The world becomes simpler, the frame is reduced to just shapes, and light… The color will never fade.
The Timelessness of Black & White Photos
Could it be that Black and White Photography is Timeless? Maybe it reminds us of a time gone by, in which everything was perfect? or is it just our desire to see things as they are not… as they never will be?
Do you have an answer? or something more than an answer?
Yes? Please, do share it with us in the comments below.
PS: If you have never owned a black and white print made with an enlarger, you should explore what it is that makes them special.
Help Us To Continue Creating
Get our email newsletter to stay up-to-date with our latest posts. It's easy to read and is mailed once in 2 weeks.
The easiest way to support Beyond Photo Tips is by using our affiliate links when you buy anything at all. It will never cost you anything extra, and we get a small commission from it, which helps us a LOT! Links below.
Some of the links to products on this website are affiliate links, and we only ever link out to gear that we recommend.
We Partner with these Affiliate Programs: Adorama | Amazon.com | Moment
You could also show your appreciation by buying us a coffee. Finally, we appreciate you being a part of the community, so do say hi!
Published: November 10, 2008 | Last Updated: August 18, 2021