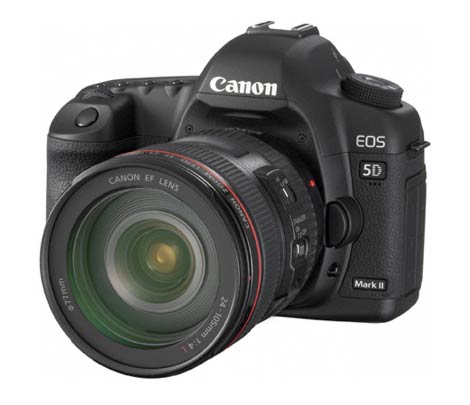 You can tell that I'm excited, can't you? Canon's gone on a rampage and released some cameras that are truly brilliant. The recent EOS 50D, and now this… The Canon EOS 5D mkII.
To avoid looking like a Canon loony (which I'm sure I must look like to some), I'm just going to list some of the cool features, and link to the press release and an in-depth preview of the camera.
21 megapixel CMOS sensor (very similar to the sensor in the EOS-1Ds Mark III)
ISO 100 – 6400 calibrated range, ISO 50 – 25600 expansion (1Ds Mark III & 5D max ISO 3200)
3.9 frames per second continuous shooting
RAW and SRAW1 (10 MP) / SRAW2 (5 MP)
AF microadjustment (up to 20 lenses individually)
Three custom modes on command dial, Creative Auto mode
3.0" 920,000 dot LCD monitor with 'Clear View' cover / coatings, 170° viewing angle
Automatic LCD brightness adjustment (ambient light sensor)
Live view with three mode auto-focus
Movie recording in live view (1080p H.264 up to 12 minutes, VGA H.264 up to 24 mins per clip)
Full audio support
New 1800 mAh battery with improved battery information
New optional WFT-E4 WiFi / LAN / USB vertical grip
Water resistance: 10 mm rain in 3 minutes
Ok… Enough drool… We'll be back with some photography posts real soon. :D
Help Us To Continue Creating
Get our email newsletter to stay up-to-date with our latest posts. It's easy to read and is mailed once in 2 weeks.
The easiest way to support Beyond Photo Tips is by using our affiliate links when you buy anything at all. It will never cost you anything extra, and we get a small commission from it, which helps us a LOT! Links below.
Some of the links to products on this website are affiliate links, and we only ever link out to gear that we recommend.
Links: Adorama | Amazon.com
Published: September 17, 2008 | Last Updated: August 8, 2021