The Best Lenses for Architectural Photography
Architectural photography calls for a certain set of specialised tasks. One of them is perspective correction. You can think of this as making sure that the vertical lines of a building actually look vertical, and not slanting towards each other. This task is accomplished by either a bellows movement, or a Tilt-Shift lens.
What is Architectureal Photography?
This is an easy question. Photographs of Buildings, Arches, or any other architectural structures are called architectural photography. They may be interior or exterior photographs. Specifically, the challenge is to show off the architecture in the best possible fashion, and to convey what the architect may have originally envisaged when they designed the structure.
Why is Photographing Architecture Such a Challenge?
The primary challenge is to un-see what we see with our eyes. Our brain tells us that the lines that converge at a point in single, two or three point architecture are actually parallel when we see a building in person. However, when we look at a photograph of that same building on paper, it essentially looks like the building is leaning backwards.
This is why very specialised architectural lenses are needed when photographers enter the world of Architectural Photography. These special lenses have limited usage outside this field.
This happens in many different fields of photography. Often enough, a specialist in a certain type of photography would have built up a photography kit that really enables them to get outstanding photographs in the field. Architectural photographers are definitely counted among those ranks.
Architectural photographers use a vast repertoire of photography techniques and specialised equipment to delivery aesthetically pleasing and visually accurate images that architects can use to show off their skills. The specialist lenses that the use include Tilt-shift lenses, Ultra-wide Angle Lenses, and at times special effects lenses. 
To go with this specific type of lens that architectural photographers need, is an understanding of composition, the elements of design, and an eye to appreciate the finer points of architecture…
So, let's look at the specialised architectural lenses that a photographer may need for his trade.
Tilt-Shift Lenses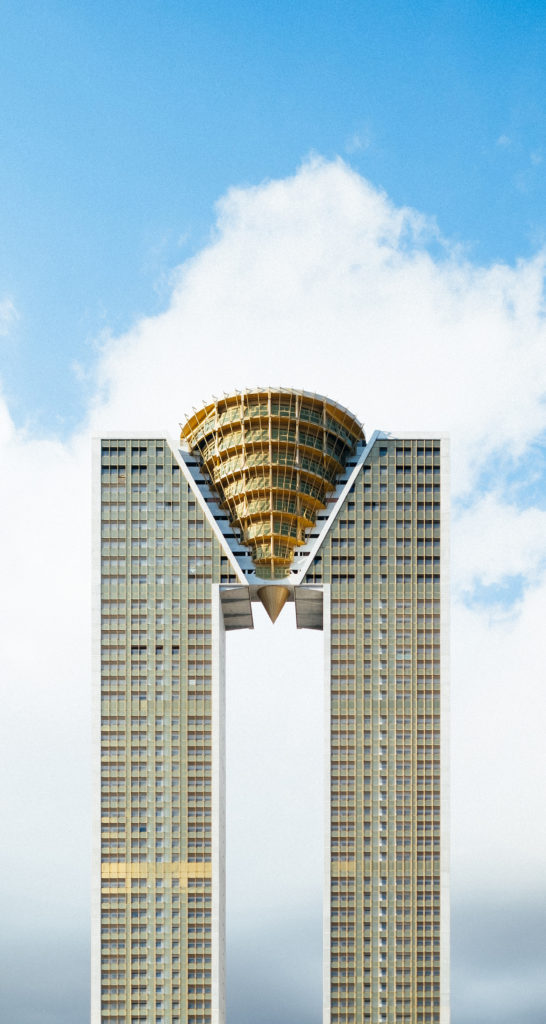 A tilt-shift (abbreviated to TS and also called a Perspective Correction – PC – lens) lens enables your SLR camera to operate like it has bellows or like a view camera (in a restricted sense though…).
Essentially, the problem with taking pictures of tall buildings from the ground is that as their height increases, the top of the building gets further away from the camera, introducing 'perspective' into the photograph.
The work around is to keep the lens' axis parallel to the ground. However, but the problem with doing this is that you get more of the ground into your photograph. The vertical lines will be straight, but you will almost certainly end up cutting off the top of the building. See the image to the right for an explanation.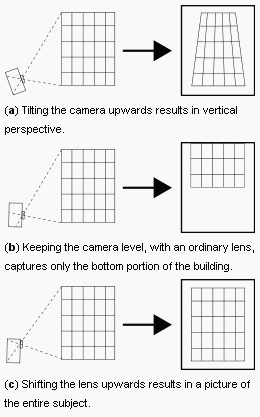 The TS lens helps by allowing you to keep the camera perfectly horizontal but 'shifting' the view of the lens upwards… Take a look a the illustration…
Here are some links to interesting photographs taken with Tilt-Shift lenses: Charminar by Sabir, CIS building by fotofacade and Full Shift Boogie by iso100.
Perspective Correction Lenses are a truly specialised architectural lens.
Here is a list of Tilt-Shift Lenses:
TS lenses by Canon
Canon TS-E 24mm f/3.5L Tilt Shift Lens
Canon TS-E 45mm f/2.8 Tilt Shift Lens
Canon TS-E 90mm f/2.8 Tilt Shift Lens
TS lenses by Nikon
Nikon 28mm f/3.5 PC-Nikkor
Nikon 85mm f/2.8 PC Micro Nikkor
Ultra Wide-Angle lenses
Architectural photography also includes pictures of interiors… Architectural features often extend from floor to ceiling, and need to be show in their entirety to be appreciated for their beauty.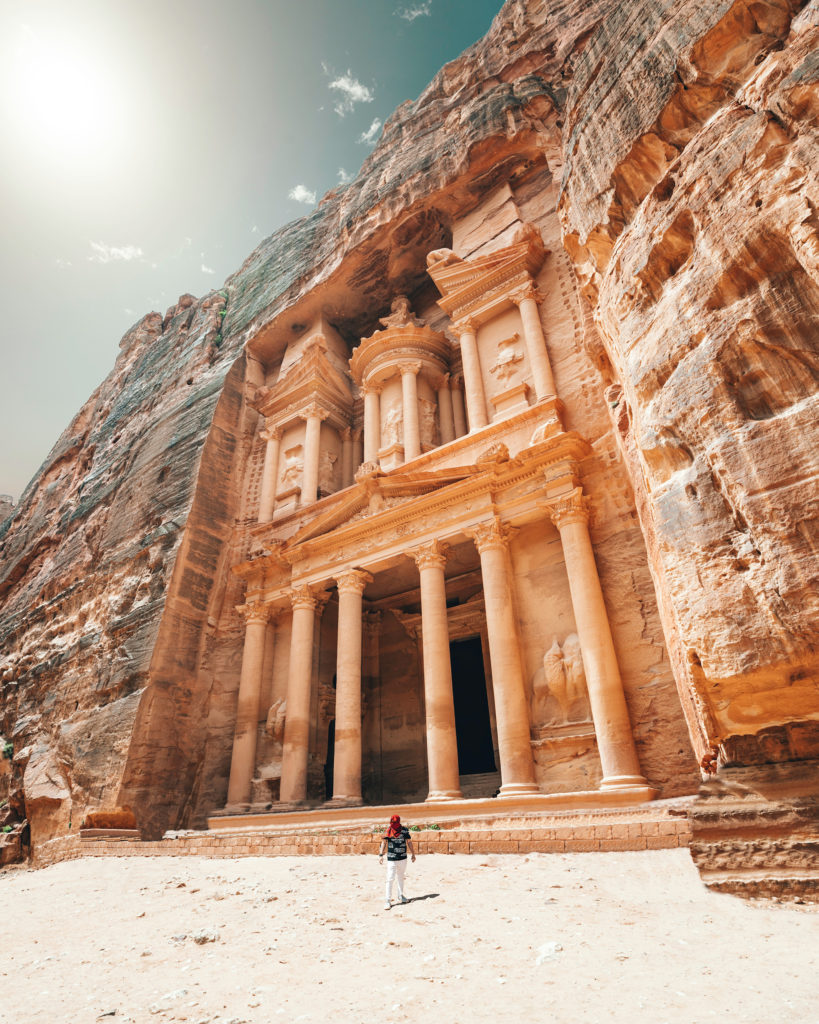 At other times, the location that needs to be shown off is narrow or small, but needs to be shown fully. This calls for another breed of special lenses.
Ultra Wide-Angle lenses, like TS lenses are expensive play things for people who have no need for them, but a necessity for those who do… 14-21mm prime lenses fit the bill for professional photographers who make a living out of photographing interiors.
However, for the enthusiast who prefers to have a more usable range of focal lengths and does not 'need' the ultra-high quality that the prime lenses offer, the ultra-wide zoom lenses that various companies have on offer are a good option. Canon, Nikon, Sigma and Tamron have some really good zoom lenses for any Digital or Film SLR that you may have.
Here are some Ultra-Wide Prime and Zoom lenses for Canon and Nikon cameras. Sigma and Tamron lenses have not been mentioned as they come in either Canon or Nikon mounts; however, here is a list of all sigma lenses and Tamron's lenses page.
Ultra-Wide Canon Lenses
Ultra-Wide Nikon Lenses
Special-Effects Lenses
Fisheye Lenses bring a very different view to any photograph.
A fisheye lens has very very limited use in architectural photography, because of the way that it distorts straight lines. They bring in a totally different aspect when it comes to architecture.
It enables the photographer to explore architecture as patterns and shapes, distorting them – sometimes beyond recognition – so that the viewer is also forced to look at architecture in a new way.
Here are some Fisheye lenses
More Lens Information
I hope that this list and explanation of some of the lenses that can be used for Architectural photography is of some use. This is by no means an extensive list. Rather, I intend it as a list that will help you get a fair idea of the kinds of lenses that can be used profitably, to get pictures that bring a viewer back for a second look.
If you're interested in improving your photography, look at our Photo Projects series.
Find out more about lenses for different kinds of photography at The Lens Resource index post.