Photographing Architectural calls for Tilt-Shift lenses – most of the time. These lenses correct perspective distortion. You can think of this as making sure that the vertical lines of a building actually look vertical, and not slanting towards each other. In the past, this may have called for a 'technical camera' or a 'bellows' attachment, but tilt-shift lenses are easier to manage in the field.
Sometimes, photographers may use an extremely wide-angle lens, or a special-effect lens to photograph architecture, but these instances are extremely rare because most architectural firms want to see their work the way that it was envisioned. These lenses are mentioned below, but their usage is rare.
Why Architecture Photographers Love Tilt-Shift Lenses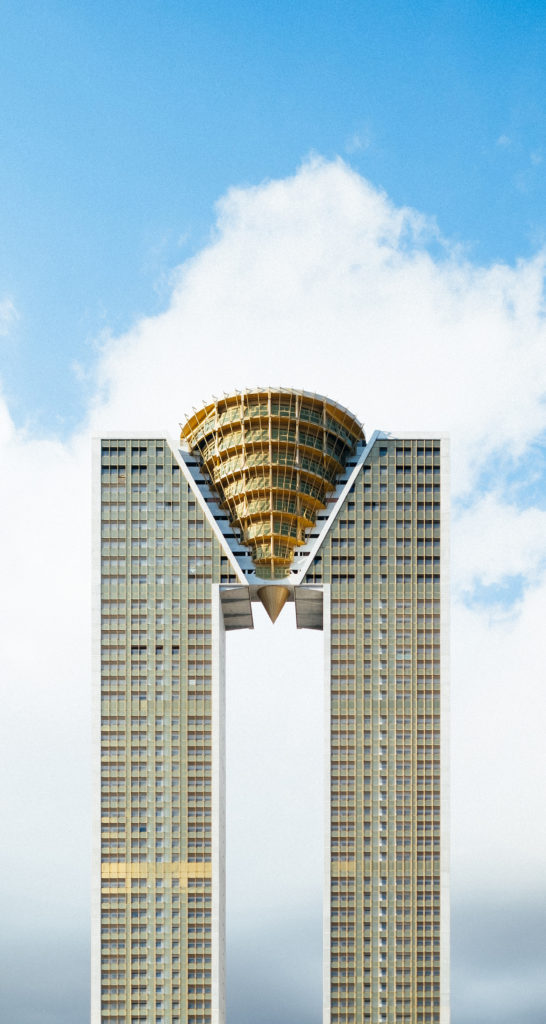 Essentially, the problem with taking pictures of tall buildings from the ground is that as their height increases, the top of the building gets further away from the camera, introducing 'perspective' into the photograph.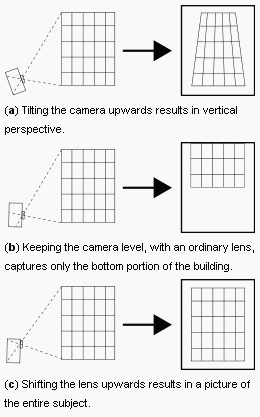 A tilt-shift lens (abbreviated to TS and also called a Perspective Correction – PC – lens) enables your SLR camera to operate like it has bellows or like a technical camera, and fixes this perspective distortion. The result is an image with perfectly vertical lines, and that's how architects like to see their buildings – without any additional distortions added.
TS lenses allow you to keep the lens' axis parallel to the ground while shifting the view in the required direction. This makes vertical lines appear to be straight. See the image to the right for an explanation.
In short, the TS lens helps by allowing you to keep the camera perfectly level with the horizon but 'shifting' the view of the lens upwards… Take a look a the illustration…
Here are some links to interesting photographs taken with Tilt-Shift lenses: Charminar by Sabir, CIS building by fotofacade and Full Shift Boogie by iso100.
Perspective Correction Lenses are truly specialised architectural lenses, and they're a must-have piece of photographic gear for any professional architectural photographer.
Tilting & Shifting are Two Different Functions of the Lens
All the tilt-shift lenses mentioned here are manual focus lenses. They allow for very fine control over perspective and focal area. Tilting and Shifting are two distinct controls that are adjusted by turning knobs on the lens.
What Does the Tilt Control do?
The Tilt Control Knob allows you to move the angle of the front group of elements. This changes the plane of focus of the lens – it will no longer be parallel to the plane of focus. The Tilt control can allow for less than the normal depth of field (miniature effect), or to adjust for tilt, to bring even more of the image into focus.
What Does the Shift Control Do?
The Shift Control Knob moves the lens parallel to the focal plane. This allows you to a) shift the framing of the shot without having to turn the camera (shift-panoramas are possible in this way), and b) correct for perspective distortion when photographing architecture.
Here is a List of Tilt-Shift Lenses:
Tilt-Shift Lenses for Canon
Canon makes TS lenses in a wide range of focal lengths. However, it's the wide-angle lenses that we are most interested in as architectural photographers.
These are the two lenses that are the most relevant for architectural photography.
Canon TS-E 24mm f/3.5L II Ultra-Wide Tilt-Shift Lens
Canon TS-E 17mm f/4L UD Aspherical Ultra-Wide Tilt-Shift Lens
Canon also makes 'macro' TS lenses, but those are more valuable for product photography. We will look at them in another article.
Tilt-Shift Lenses for Nikon
Nikon also makes some excellent Tilt-Shift lenses (Nikon calls them 'perspective correction' PC lenses). They also make some macro PC lenses that are better suited to product or still-life photography – PC-E Micro NIKKOR 45mm f/2.8D ED and the PC-E Micro NIKKOR 85mm f/2.8D lenses.
Third-Party Tilt/Shift Lenses (Lenses for Canon, Nikon and Sony)
Ultra Wide-Angle Lenses – Prime and Zoom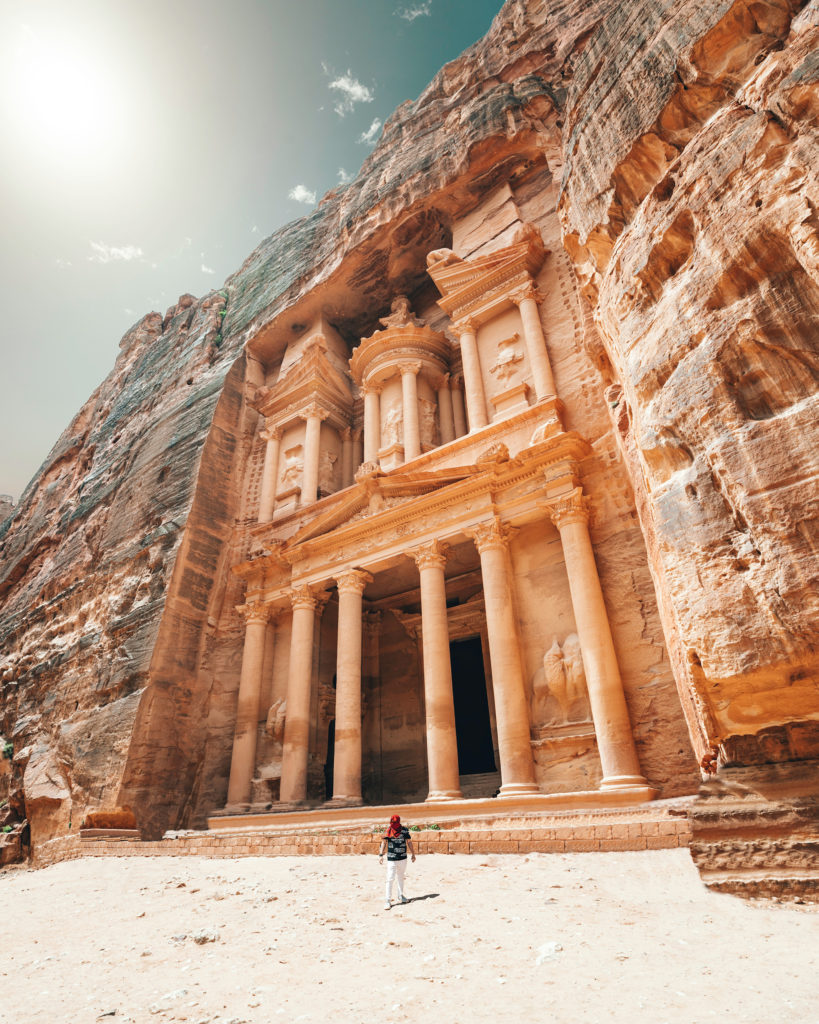 Sometimes the space being photographed needs to be shown in a dramatic fashion. That's when ultra-wide lenses enter the scene in architectural photography.
These lenses need to be used with care as even slight tilts have a dramatic effect, and can sometimes look unsettling.
Here are three lists of selected Ultra-Wide Prime and Zoom lenses for Canon, Nikon and Sony cameras. Sigma and Tamron lenses have not been mentioned as they come in either Canon or Nikon mounts; however, here is a list of all Sigma wide-angle lenses and Tamron's lenses page.
Ultra-Wide Canon Lenses
Ultra-Wide Nikon Lenses
Ultra-Wide Sony Lenses
Special-Effects Lenses
Fisheye Lenses bring a very different view to any photograph.
A fisheye lens has very very limited use in architectural photography, because of the way that it distorts straight lines. They bring in a totally different aspect when it comes to architecture.
It enables the photographer to explore architecture as patterns and shapes, distorting them – sometimes beyond recognition – so that the viewer is also forced to look at architecture in a new way.
Would you use a fisheye lens for architecture? Weigh in with your comments below.
Here are Some Fisheye Lens Suggestions:
What is Architectural Photography?
Photographs of Buildings, Arches, or any other architectural structures are called architectural photography. They may be interior or exterior photographs. Specifically, the challenge is to portray the architecture in the best possible way and to convey what the architect may have originally envisaged when they designed the structure, often trying to replicate the way the building was drawn on paper, with exact elevations.
Why is Photographing Architecture Such a Challenge?
The primary challenge is to un-see what we see with our eyes. Our brain tells us that the lines that converge at a point in single, two or three-point perspective are actually parallel. When we look at a photograph of that same building on paper, it looks very different. It looks like the building is leaning backwards.
If we can acknowledge that our brains are 'fixing' perspective and allowing us to understand the world regardless of what we see, we can then move on to understanding how to portray these large 3D objects on a small 2D plane.
More Lens Information
These lists are by no means exhaustive. Rather, I intend them as a guide to give you a fair idea of the kinds of lenses that can be used in a challenging profession, to get pictures that bring a viewer back for a second look.
If you're interested in improving how you look at photography, visit our Photo Projects series.
If you're interested in reading more about lenses that can be used for different kinds of photography, check out The Lens Resource index post.
Help Us To Continue Creating
Get our email newsletter to stay up-to-date with our latest posts. It's easy to read and is mailed once in 2 weeks.
The easiest way to support Beyond Photo Tips is by using our affiliate links when you buy anything at all. It will never cost you anything extra, and we get a small commission from it, which helps us a LOT! Links below.
Some of the links to products on this website are affiliate links, and we only ever link out to gear that we recommend.
Links: Adorama | Amazon.com
NOTE: This article has a number of affiliate links that help to support this website by means of a small commission on sales. Clicking these links for your purchases helps us keep this website going, and does not increase the price you pay for your purchases.
Published: April 29, 2007 | Last Updated: August 8, 2021